New Ways Attack Resistant Openings Enhance Classroom Safety
Attack resistant door, frame & hardware assemblies delay or thwart an attacker's efforts to enter a classroom. Now, new features provide additional opportunities for school districts to improve classroom security. In-swing capabilities and fire-rated options meet (or exceed) 5-aa10 test standards, making attack resistant openings viable for more schools.
How Attack Resistant Openings Fill Security Gap
Attack resistant openings meet important building codes related to fire & egress and are less costly than bullet resistant options. They keep an armed intruder out of a classroom long enough for occupants to take cover and for first responders to arrive on scene. As the intruder tries and fails to enter multiple rooms in a short period of time, a tragedy is averted.
This category of products began with a complete out-swing door, frame & hardware assembly for new construction or full-replacement openings. Retrofit options were subsequently added. Now, all attack resistant options are available with an in-swing application where a door opens into a classroom or other space off a corridor.
This video demonstrates how new construction and retrofit options withstand a brutal attack by gunfire and a heavy blunt object.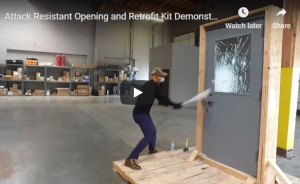 If fire rated is a requirement, the complete in-swing or out-swing assembly can include 20, 45, 60 and 90 minute fire rated options for doors, sidelights and borrowed light frames. Learn more about fire rated inclusions here: Ceco Door, Curries, Fleming.
See who wins the battle of man vs. retrofitted opening!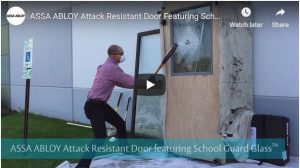 Overview of attack resistant solutions by Ceco Door, Curries, Fleming. New Features Earn Attack Resistant Opening Industry Awards.
See Security Glass or Films: Make an Informed Decision on Security Upgrades for Your School and What's the Difference?: Attack Resistant and Forced Entry Bullet Resistant (FEBR) Openings to learn more about differences between solutions.