New Features Earn Attack Resistant Opening Industry Awards
ISC West continues to be one of the most well-regarded, well-attended events where security professionals learn about the latest safety and security innovations. When the Attack Resistant opening from ASSA ABLOY brands Ceco Door, Curries, and Fleming was first demonstrated in 2017, it garnered much attention and accolades for bridging the gap between standard doors and bullet resistant openings. Since that time, the assembly has evolved as a viable option for many school districts, where protecting against an armed attacker has become high priority. Recent enhancements led to the Attack Resistant opening winning multiple awards at ISC West:
Testing the Attack Resistant Opening
Overall, Attack Resistant openings have been tested according to the FBI's active shooter report, which requires an opening remain secure through 90 shots of 7.62mm ammunition, followed by a four-minute attack from an assailant using heavy objects and/or weapons (see footage of certification test 5-aa10). The complete assembly uses a select combination of standard doors, frames, and hardware (mortise locks from Corbin Russwin, Sargent and Yale) along with attack resistant glass from School Guard GlassTM, making it an affordable way for schools to increase protection.
More Applications, More Safety Features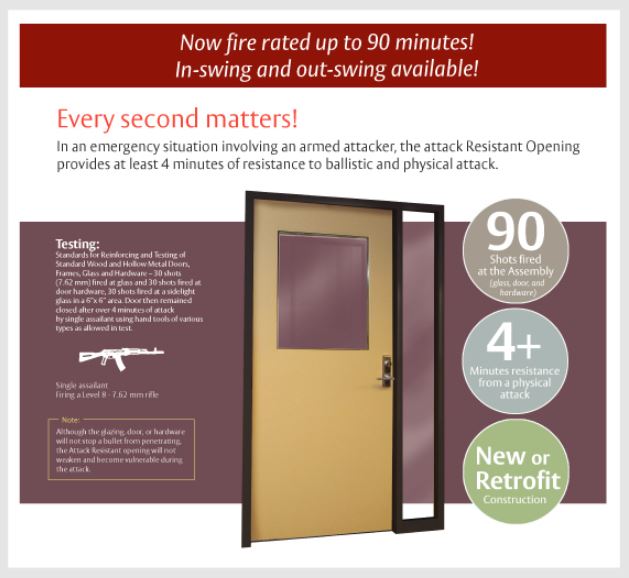 But what great new features that led to the recent awards? Ceco Door, Curries, and Fleming have expanded the product line to provide more ways to improve security and life-safety in schools:
In-swing and out-swing (seated/unseated) available to cover more applications, i.e., classroom doors that swing into the classroom rather than out to the hallway
Retrofit kits are available for existing sidelights and borrowed lights in hollow metal or wood doors
Security system integrators, designers, and architects are finding that Attack Resistant retrofit kits provide better value and performance than their only other lower-cost option – security films for glass. In fact, the glass used for Attack Resistant openings can delay and withstand an attack far longer than any security film. See demo and hear from an architect here:
Whether for new or existing construction projects, Attack Resistant openings can provide what schools need – increased safety & security, a normal aesthetic, ample daylighting, and lower cost of ownership over the life of the opening.
Everyone involved with designing, building, and selling these products appreciates the recognition by industry groups, and thanks Campus Security & Life Safety and Security Today publications!
Additional Resources
What's the Difference?: Attack Resistant and Forced Entry Bullet Resistant (FEBR) Openings
Attack Resistant Opening at 2017 ISC West