How Secure Can a Beautiful Door Be? Very!
We sometimes get surprised reactions when we tell architects and designers that, yes, a high security opening can be as beautiful as it is strong. That's because traditionally, the strongest openings were somewhat utilitarian and plain looking. But that has changed in recent years due to innovative new materials and changes in manufacturing processes. Now, we talk about decorative openings in the same breath as the most secure openings – bullet resistant, blast resistant, and hurricane rated.
Embossed Panels Give Designers Many Options
Any conversation about doors being an integral part of a facility's design must include embossed panels. Beyond 1- or 2-panel doors, embossed hollow metal doors come in eight panel designs, all of which meet many security and life safety requirements for schools, healthcare, office, hospitality, government, and other commercial facilities.

When combined with decorative frames and the right hardware, the opening is complete!
Finish Options Help Meet Building Needs
Manufacturers such as Ceco Door, Curries, and Fleming recognize decorative openings as a distinct product category where ratings and finishes converge to provide building owners with many options for security + style.
Let's review factory prefinished paint options for embossed doors. Ceco Door, Curries, and Fleming offer color selections based on PPG designer recommendations for various vertical markets. When applied at the factory, there's an unmatched level of quality and consistency that brings elegance and durability to the door. In addition, prefinishing is quicker and more efficient than on-site painting, and complies with strict EPA and "green" standards (LEED EQ 4.1 and 4.2 for VC levels at jobsites).
Embossed hollow metal doors come with additional features or options that solidify the "no need to sacrifice looks to achieve security" concept:
Fire rated up to 3 hours
Hurricane rated up to +/-70 psf
Acoustical (STC) capabilities up to STC 48
Energy efficient
High Style Options Widen Design Possibilities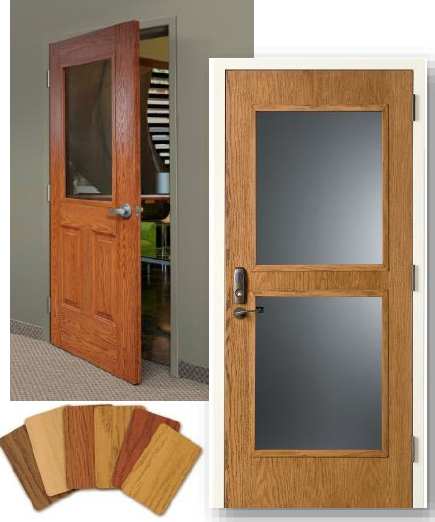 While factory prefinished paint is the most commonly-used option, there are innovative, high concept styles that give doors that extra wow factor. These include wood grain and stainless steel finishes.
Wood grain hollow metal doors provide the warm look of beautiful wood with the durability of steel. Six rich standard colors, each with an engraved grain texture, and stile & rail patterns make this an interesting option for many applications. Beyond the standard options, custom color matching of wood patterns is available as well. Desirable features include:
Fire rated up to 3 hours with temperature rise options
Moisture and vermin resistance
Matching trim and frames available
Bold stainless steel doors give designers the finishing touch for modern, sleek styles. Looking almost like a dramatic fixture, stainless steel doors come in brushed satin, fine satin, mirror, and other colors. Matching frames complete the opening. Selected for looks and durability, stainless steel doors offer the extra benefit of providing maximum corrosion resistance. Options include:
3-Sided frames, sidelights, transoms, borrowed lights with standard or custom profiles
Decorative glass options – frosted, tinted and mirrored
Many sizes and configurations up to 10' tall
When specifying doors for new or retrofit construction projects, of course safety and security come first, with convenience and sustainability also playing a role. But it's good to know that style doesn't have to be sacrificed to achieve any goals!
For more design inspiration, visit The Good Design Studio or see the Decorative Door and Frame Solutions brochure. And check out our last blog post, Decorative Hollow Metal Frames Fill Void.