Zinc Coating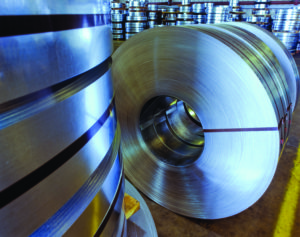 No, I'm not talking about the stuff lifeguards used to smear on their noses back in the 80's to protect from the sun. In the commercial door industry, zinc coating is an important attribute in quality steel doors and frames. While its anti-corrosive nature is extremely valuable, the most noticeable advantage is the way that it accepts paint.
To complicate things, there are two common types of zinc coated steel: galvanized steel and galvannealed steel. Galvanized steel, commonly referred to with a "G" designation along with the coating weight (G40/G60/G90), has a zinc coating that is not ideal for painting as the primer does not adhere properly and the top coat tends to peel and flake. Galvannealed steel, referenced with an "A" (A40/A60), is the ideal zinc coating for steel doors and frames as it exhibits excellent paint adhesion.
Unfortunately, not all specification writers understand these differences and assume all zinc coatings are created equally. To help, the Steel Door Institute (SDI) has published an article detailing the difference between galvanized and galvannealed coatings, and just why the zinc coated galvannealed finish should be the specified product for all projects that include painted hollow metal doors and frames according to ANSI/SDI A250.8.
So next time you see paint peeling off steel doors and frames, don't automatically blame the painter. Check the specs early in the project planning and make sure you've got galvannealed steel on order for your project.