The Hospitality Comeback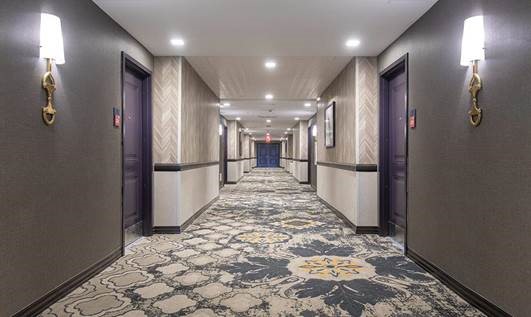 Two of the industries hit hardest by COVID-19 were travel and hospitality. With hotels making up a large percentage of the overall hospitality market, the two go hand in hand. Now, thanks to vaccine availability and over a year of social distancing, these markets are finally making a comeback. But they aren't coming back quite the same as you may remember.
The practice of mandatory masks on airplanes gets the most press of the recent changes in travel, but the trend continues in the hospitality market. Although masks may not be required in hotels, hoteliers along with their architects and designers are altering how guests interact with their buildings. These design trends have driven changes in the door and hardware industry's new product development.
Decorative doors and frames have always been a key design element in hotels. Combining acoustic door cores with embossed panels or applied moldings is a common way to soften the robust strength and performance of steel hollow metal doors. Pairing these doors with decorative profile frames that look like custom wood millwork enhances the overall visual appeal without sacrificing the performance of the full assembly. Now these decorative products are being combined with touchless technologies, such as access control, wave to open switches, and low touch hardware that can be used with an elbow or foot in lieu of handling these devices.
In a recent article published by Door Security + Safety magazine, Sandra Matheny writes about how doors, frames and hardware effect the hotel guest experience post pandemic. Sandra goes into detail about no-touch and low-touch products, including some newly developed concepts resulting from the recent pandemic. Check out the article here for a glimpse of what you may expect as business and leisure travel makes a comeback.