mindful MATERIALS: A Comprehensive Sustainability Resource
Sustainability remains a key consideration when designing and constructing openings for new and retrofit buildings. But what makes an opening "sustainable" or "green"? Energy efficiency, material sourcing and composition, end-of-life and other factors all play a role. In fact, there are so many sustainability standards that it's difficult to know which ones are relevant for the opening, and then to know which products meet (or exceed) standards.
LEED, WELL Buildings, and Living Building Challenge, are some of the most widely-used guidelines and sought-after building certifications.
Building Products and Sustainability Standards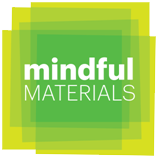 But again, how do you know if products qualify for sustainability points? One website, mindful MATERIALS, may be just the resource you need. It's a free platform filled with aggregated information on human health and environmental impacts for products from leading manufacturers, vetted by experts passionate about making it easier to make informed product choices.
Let's explore a little. Once you create a free account, you can access the library of extensive product data. The website's interface makes it easy to find ratings, descriptions and more for major sustainability measures:
Materials Ingredients
Environmental Profile
VOCs (volatile organic compounds)
Material Sourcing
Social Responsibility
Manufacturing Location
Product End-of-Life Recycling Program
Quick filtering by CSI Division, manufacturer/brand, LEED and other green building certification, and other categories brings the user to the information needed. We like the horizontal "expand" and "collapse" functionality, which makes it easier to see specific factors.
Manufacturers seeking to get their products included in the mM library must submit each product for review by the mM Review Working Group. Mindful Materials provides a complete user guide to help manufacturers understand and meet publishing criteria.
Doors & Frames – Compilation of Sustainability Info
ASSA ABLOY Group brands total almost 100 products listed, including 11 from Ceco Door, 13 from Curries, and 5 from Fleming. Once a user clicks on the product name to see details, they get a complete compilation of the product's certifications and declarations including EPDs, HPDs, Declare, and GreenGuard.
Product info includes features contributing to sustainability ratings, materials, and specifications documentation, as shown in this screenshot: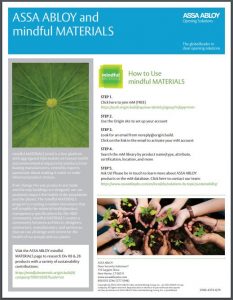 This PDF will help you get started using the resource: ASSA ABLOY and mindful MATERIALS.
Additional sustainability info related to doors & frames can be found at Ceco Door, Curries, and Fleming.
Being a part of a resource that serves architects, designers, contractors, building owners, and manufacturers helps us all work together toward the common goal of creating healthier, more sustainable buildings.