Installation Made Easy with 3D Modeling App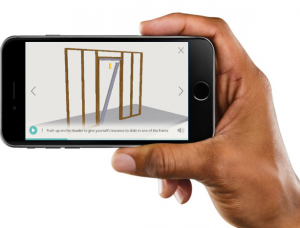 Proper installation is imperative for the correct operation of doors and frames, as it is with any product that gets assembled or installed after purchase. Sure – after numerous installations it becomes second nature and installers don't need to reference the instructions. However, if it's the first installation ever or in a while, the process isn't always simple. There are likely to be parts used in the wrong locations, steps overlooked, and other issues that can waste time and/or cause the product to function improperly.
Now, thanks to the BILT app for smart phones and tablets, the time it takes to properly install openings is drastically improved. Here's why:
The BILT app provides detailed, interactive 3D instructions with audio that walks you through the installation process step-by-step. Forget paper instructions that get lost or aren't as clear as they should be.
Instructions on BILT give you the ability to zoom in and rotate each component to see exactly how they fit together.
Now you can run through a virtual installation before receiving the product, which minimizes the time it takes on-site – saving you money and headaches.
Contractors can use it to ensure that installers are going through the correct process without having to be experts themselves.
ASSA ABLOY has seen the advantages of partnering with BILT. Ceco Door and Curries each have eight products listed on the app, including tornado resistant door openings of which proper installation is required to save lives. Other ASSA ABLOY brands are listed with guided instructions for hardware ranging from mechanical cylindrical locks to electrified exit devices, and much more. Just think if you had the BILT app available for the Ikea furniture you bought that came with a million loose pieces!
The app is not compatible with desktop computers, so download it from your smart device either from the App Store or on Google Play. Take advantage of this free download and let technology make life easier for you. It's here to make us much more efficient in the construction industry.
See more blog articles that cover installation issues and tips.