Advantages of Sliding Doors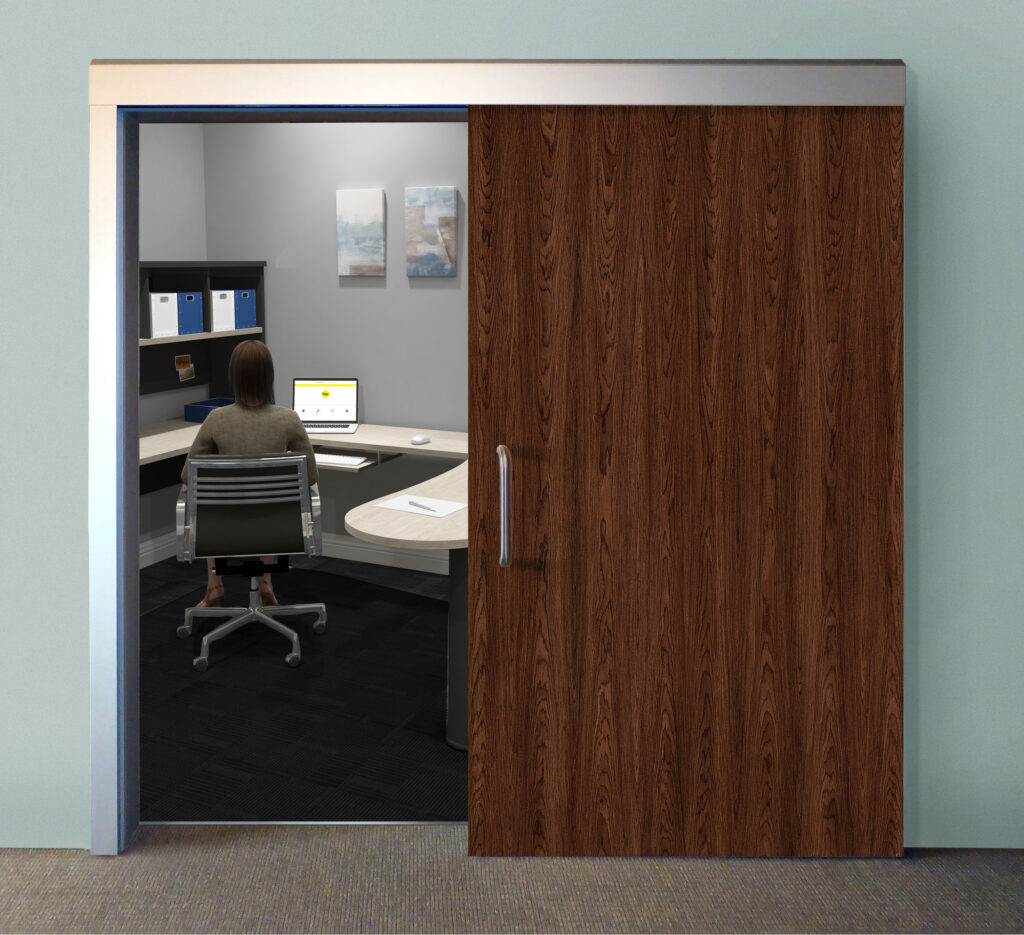 Sliding doors are a growing trend in commercial projects. They've been used in residential applications such as patio doors for decades, and are now gaining traction in new markets thanks to many advantages compared to traditional swinging doors. Some of the early adopters in commercial spaces were hotels utilizing sliders for restroom doors, and architects and designers are now implementing them into other applications as they realize the benefits.
Space savings is a major advantage for sliding doors. If you compare the square footage of a traditional swinging door to the footprint of a sliding door, you'll see a vast difference. Take a typical three foot wide door: although the overall operating space required isn't a perfect square, when the lost space behind the hinge jamb (where the door frame is offset from the adjacent wall) is accounted for, it occupies about nine square feet. Compare this to a three foot wide sliding door opening, which takes up approximately one square foot. When designing a large space, if you multiply this difference of eight square feet by the total number of offices or other room types, you'll see a huge savings on usable floor space and a more efficient building design.
In addition to the space savings, sliding doors can easily convert a room with an open feel into a private setting. The sliding door tucks away nicely when in the open position. It doesn't affect the usable space, and with certain designs it could even blend in with its surroundings going unnoticed until closed. Sliding doors are typically wider than swing doors, which results in ease of passage or traffic. This is an advantage in conference rooms, meeting rooms and mixed use spaces where you can maintain a clear and open flow, or close the doors to separate them.
Sliding doors come in various materials and styles. For privacy, you could use either a flush or stile and rail solid wood door. Some complete sliding door systems even come with an STC rating showing acoustic performance. If daylights are part of the design aspiration, doors could include window kits or even be full glass stile and rail doors made of wood, steel or aluminum. Combining the full glass sliding door with a window wall maximizes daylighting, clear views and promotes the open design concept – even with the door closed. The various door options provide a wide range of decorative design options without compromising their function. This could result in a sleek, minimal, modern design, or a more traditional look combining an ornate panel door with more classic barn-style sliding track components.
Another advantage of sliding doors is the ease of operation. Due to the growing trend for sliding doors, operational hardware options for these systems have grown as well. The majority of sliding doors simply slide back and forth with a door pull. This type of sliding door allows users to open or close the door with an arm or elbow in case they have their hands full, or are attempting to be as hands free/touchless as possible for fear of germs or bacteria. In applications where privacy is required, deadlocks can be added to the pulls, or full mortise locks integrated with sliding door handles can be utilized. To accommodate building codes, many of these are now offered as self-latching hardware – further simplifying the operation. Slamming sliding doors could be a concern, however, most systems now either come standard with soft close/soft open devices installed in the track, or have it available as an option.
There can be a lot of parts and pieces to some sliding door systems, but most are sold as a kit or complete assembly. This makes the purchasing aspect of sliders much easier than separately ordering the door, frame, hardware and accessories. It gives you a one stop shop with the confidence that the components will accommodate each other to create the sliding door system intended in the design. With all of these advantages, it's not tough to understand why sliding doors are becoming more prevalent in offices, medical exam rooms, patient rooms, hotels, meeting rooms, among other applications. You can be sure that this trend is not a fad that will fade away any time soon. In fact the signs are pointing to further innovations and options that will disseminate sliders into even more markets and applications.